BACKGROUND
As a Division of the Department of Transport it operates with its HQ based in Dublin and three Coast Guard Rescue Co-ordination Centres – Valentia, Malin and Dublin, four helicopter bases in Waterford, Shannon, Dublin and Sligo and with 50 Volunteer Units countrywide.
VHF and Marine Frequency (MF) still remains the main stay of Coast Guard communications, but a requirement for secure communications was identified between IRCG's Search and Rescue aircraft and incident managers on the ground, combined with a direct link to senior Coast Guard Management. The NDRS provides this thus enhancing the resilience of the current communication system.

60+
Staff Members & Operators

3
Co-ordination Centres 5
Future Kitted S92 Helicoptors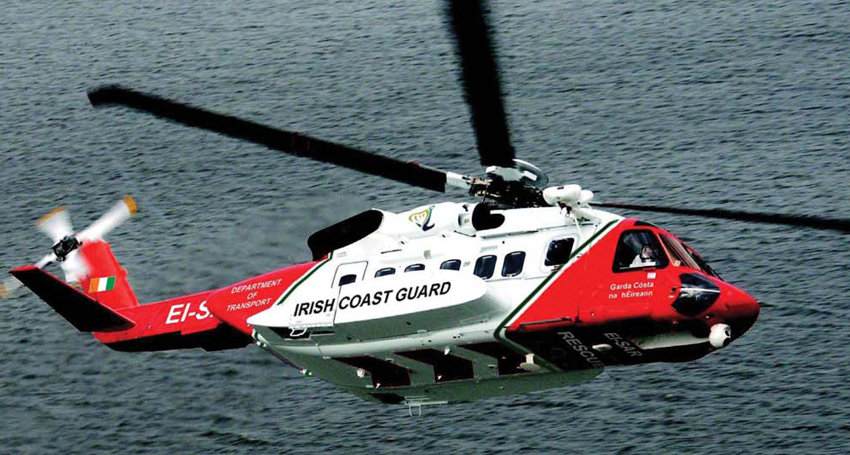 Migrating to TETRA
IRCG began its trial usage programme in 2011. Testing was carried out between the Rescue Co-ordination Centres, the Coast Guard Incident Management team and with the Coast Guard helicopter based in Shannon.
Quality of communications were found to be of a high standard and suitable to the needs of the IRCG service.
Further to the decision to migrate, training of all radio equipment was provided by Tetra Ireland to IRCG management and on-site at each Helicopter base and Rescue Co-ordination Centre. The design of the NDRS talk groups, called fleet-mapping, was done over a number of months by the Coast Guard NDRS Project Manager and the Search and Rescue Manager working in conjunction with Tetra Ireland. In developing the Irish Coast Guard fleetmap, it was important to future-proof it for roll-out to other divisions of the Coast Guard. It was also necessary to consider other agencies that are still in the NDRS development phase.
Upon migration completion, 50 staff in the 3 Coast Guard Rescue Co-ordination Centres went live on the new Digital network using 6 fixed mobiles, while 10 management and Incident Managers operate hand held mobiles. Additionally, each Irish Coast Guard Helicopter base has 6 personal hand portables for crews with one helicopter, based in Shannon, fully equipped with a TETRA radio system on board. This will increase to 5 with new S92 aircraft soon to come on stream.
Security
The NDRS provides the Irish Coast Guard with the unique ability to communicate with partnering emergency and military services in a secure and encrypted manner. This is important when an emergency incident response is underway and sensitive information being communicated between agencies must remain private.
Resilience
The robust nature of the NDRS, especially in remote areas, provides IRCG with effective communications support to its additional VHF network. The TETRA network's overlapping base station coverage, power and switch back-up, means it is resilient to interference including power outages, weather conditions and sabotage.
Interoperability
Communicating over the NDRS gives the Irish Coast Guard the ability to speak with partnering agencies, An Garda Siochaná, Irish Navy and HSE, at a level never available in the past. This can be operated by either switching to a shared multi-agency channel, or by calling individual radio numbers in their network.
THE RESULT
Reliable and resilient communications uniquely built for information sharing among multiple agencies, instantaneously.
"The Irish Coast Guard are very satisfied with the level of clear and secure communications the NDRS provides us during very challenging and dangerous Search and Rescue conditions."
Declan Geoghegan, SAR Operations Manager, Irish Coast Guard