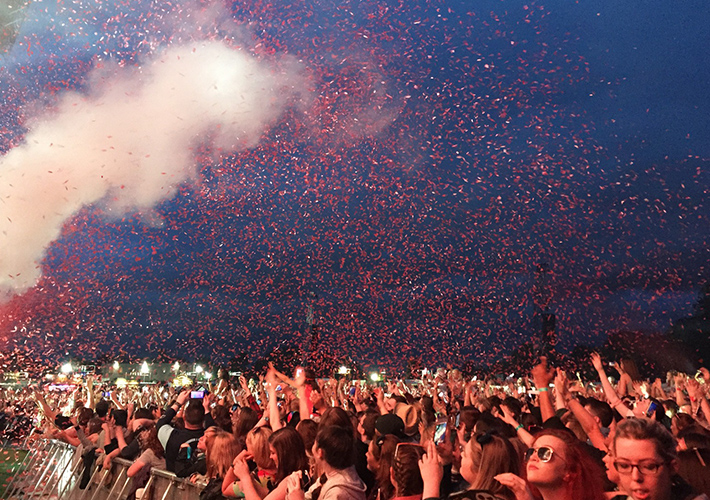 Published on September 16, 2016
The Red Cross utilise Tetra at Electric Picnic 2016
---
Tetra is by far the best radio I've used.

IRC Volunteer regarding the Tetra Radios / Network at Electric Picnic 2016
Following on from their usage of the NDRS for operations during Longitude at the begining of the Summer The Irish Red Cross chose to utilise the network yet again for their time at Electric Picnic.Tetra was their sole choice of communications for the event with over 50,000 people in attendence at the festival in Stradbally in Co Laois at the begining of September.

Up to 160 Red Cross volunteers were put to work over the 3 day event, with representation from all of the 26 Red Cross Areas around the Country.
After their success at the event we were delighted to receive an abundance of positive feedback from the Red Cross Radio Operators, Radio Controllers & Duty Officers.
93% of respondents rated their overall experience with the Tetra Network as very positive..
Comments from IRC Volunteers regarding the Tetra Radios / Network
Having worked with radios for the last 30 years in a military and civilian capacity, I found Tetra to be one of the best on the market in a long time. They ticked all the right boxes from a user point of view.
The quality of sound was excellent
Great coverage. I hope we can use Tetra again.
Radios were perfect we just need to prioritise lapel mics to locations where there is a lot of background noise from stages etc.
Excellent radio comms.
How did Tetra radios compare to the current IRC VHF radios?
Tetra radios way out preforms our standard VHF Radios There is no comparison.
Tetra radios were very clear, had no loss of coverage and were easy to use. I often find the VHF sets lose coverage and create a lot of white noise.
They are much better than VHF, audio quality, battery life and especially signal are much better and the ability to private call the Duty Officer etc if required is a great addition.
Compared to the VHF radios we used at Electric Picnic last year, the Tetra comms were far better. I found the messages were a lot clearer even when there was a lot of background noise.
No comparison to VHF, conversations were crystal clear and had no problems with signals dropping.
Tetra is by far best radio I've used.
---
Registered in Dublin, Ireland. Company Number 406355;
Registered Office: C/O LAW DEBENTURE (IRELAND) LIMITED, 38/39 FITZWILLIAM SQUARE WEST, DUBLIN 2, D02 NX53
© Copyright TETRA Ireland 2023. All rights reserved.
We use cookies on our website to give you the most relevant experience by remembering your preferences and repeat visits. By clicking "Accept", you consent to the use of ALL the cookies.