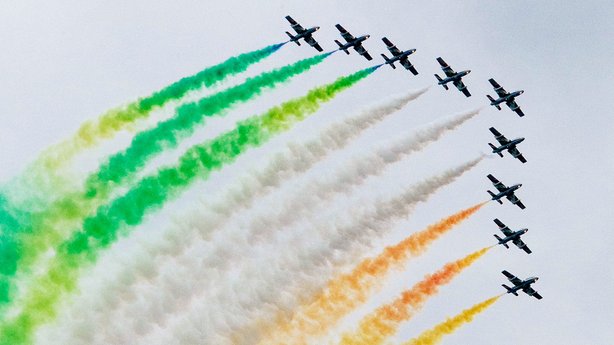 Published on July 24, 2017
Breathtaking scenes in Bray & Foynes
---
The Irish Aviation Authority's #AviationIreland weekend took place this Saturday and Sunday. Limerick hosted the Foynes Air Display on Saturday, while the Bray Air Display took place on both Saturday and Sunday
Up to 90,000 people descended on the Bray seafront yesterday to marvel at a spectacular showing at this year's Bray Air Display - marking Bray's 12th annual air display.
With a total 160,000 spectators over the weekend making the trip to the two towns of Bray & Foynes. All were thrilled by a highly entertaining display that was headed by the spectacular Spanish airforce.
While crowds were impressed by some thrilling scenes in the sky, those working behind the scenes ensured that the two-day spectacle got off without a hitch.
The main supporters behind Bray & Foynes Air Display are the Irish Aviation Authority (IAA). The IAA used Tetra technology to Coordinate the event from Dublin Airport, Foynes and Bray.
Eamonn Brennan, Chief Executive of the Irish Aviation Authority said, "The Bray Display has been a phenomenal success over the last couple of years. Aviation is a hugely important economic driver for our country and this year under the IAA's "Aviation Ireland" campaign we are supporting not just one but two spectacular air shows over the same weekend at Foynes and at Bray, making this year an extra special one for fans of aviation across Ireland. We see this as a great avenue to raise the profile of aviation and to generate an interest in our industry."
Other Tetra Ireland customers ensuring the success of the two events were An Garda Siochana, the Order of Malta ,the Irish Red Cross ,the Civil Defence, the Irish Coast Guard and the Irish Air Corp.
---